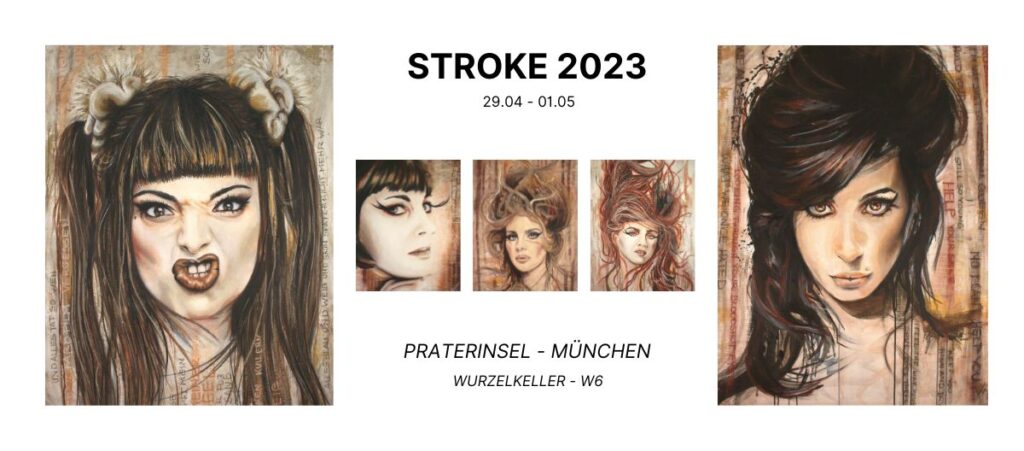 Stroke 2023
We are super excited to be participating at this years Stroke Art Fair in Munich again.
We have always been big fans of this Art Fair, but since participating last year, we are looking forward to this years edition even more.
It is the combination and connection between the various creative forms of expression such as painting, photography, illustration, design, music and fashion that reflects one of the most important cultural changes of the 21st century and that is shown at STROKE.
With their love for new art and their support for open minded and emancipated human beings, the Stroke Art Fair has always been an inclusive place where everyone can come and enjoy art together.
This years Stroke Art Fair will happen from Saturday 29th of April 2023 until Monday 01st of May 2023 at Praterinsel 3-4, 80538 München.
Opening Hours:
Saturday, 29.04.2023 12:00 – 20:00
Sunday, 30.04.2023 12:00 – 20:00
Monday, 01.05.2023 12:00 – 18:00
You can find more information on their Website: http://www.stroke-artfair.com/
Lost in Music
This year, S.Weller will present "Lost in Music", a series of portraits that capture the essence and mood of songs and artists who have accompanied her throughout her life.
Music has a strong influence on all our lives.
It can inspire, motivate, comfort, heal, take you back in time, trigger memories and associations.
The paintings create a connection between everyday life and memories, allowing us to get lost in our very own emotions.
If you want to lose yourself in in your own and individual memories, we are already looking forward to welcoming you to Stroke at our booth W6.