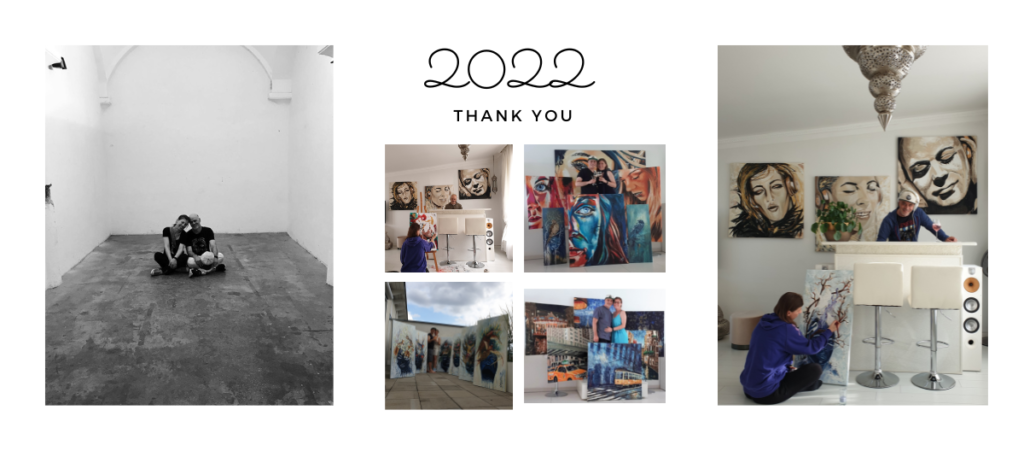 We just wanted to say a huge thank you to everyone who has been part of our journey with Sundays are for Art and for all your support throughout the year. This project has allowed us to meet so many lovely and supportive people, on- and offline, and we are so thankful for our little community.
With this little Blog Post, we wanted to reflect a bit on the past year and all the amazing things we were allowed to experience with Sundays are for Art.
Start of our Journey
With Sundays are for Art we wanted to create a platform that we could use to showcase our passion for creating art and music, and how they can influence and complement each other. Both of us work full time jobs, but our Sundays are reserved for painting and creating music. We launched this Website and an Instagram Account on March 20th.
We are so thankful for the amazing community on our Instagram Page, for all the likes, comments, and direct messages that we receive every day. This has become so much more than just a place to post pictures about our art, this has really become a place to connect with so many amazing people from all over the world.
Thank you all so much for your support.
Lost in the Woods Paintings & Music
If you are following our journey, you already know that we take daily walks through the woods to find balance to our daily work routine.
It is such a blessing to live close to nature and being able to experience the beauty nature has to offer at all times of the year.
We have experienced so many beautiful and emotional moments during these walks that we wanted to capture these in a series of paintings and music.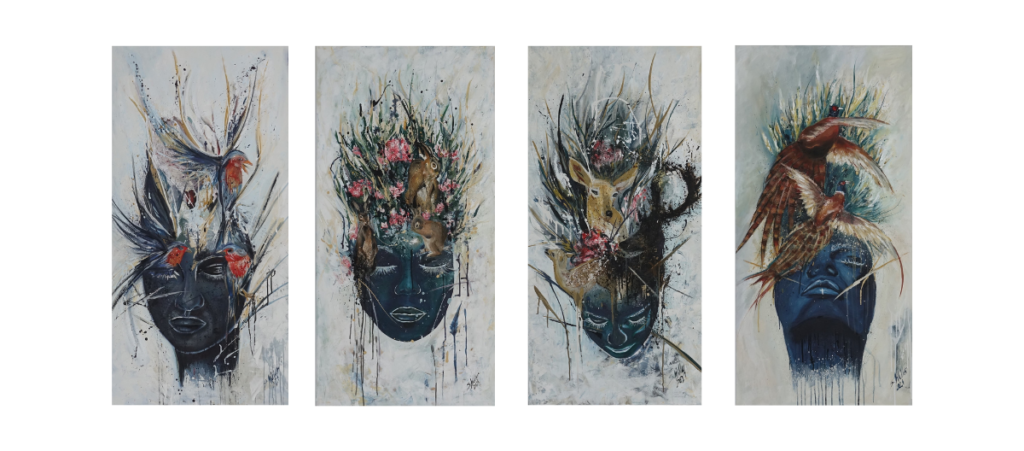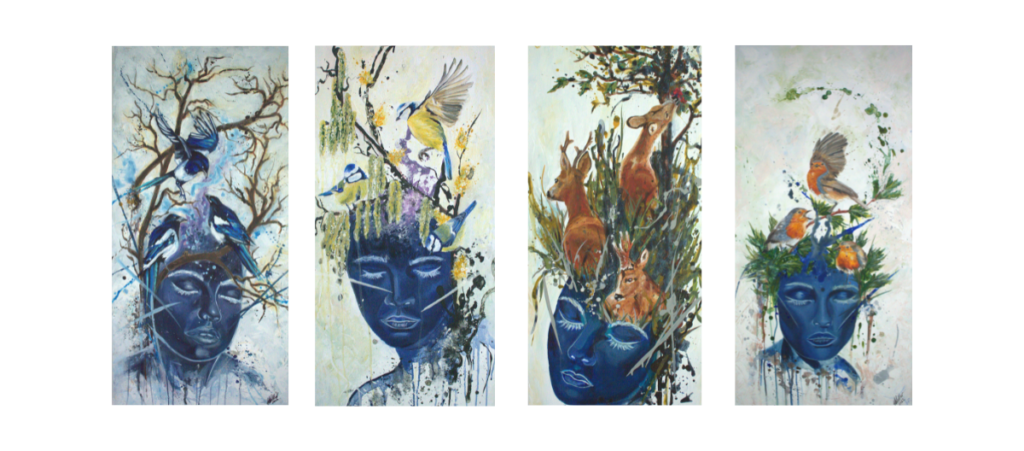 Stroke Art Fair
From the 19th – until the 22nd of May S.Weller presented her Art for the first time ever live at the Stroke Art Fair that happened at the Praterinsel in Munich.
We have always been big fans of this Art Fair due to its combination and connection between the various creative forms of expression. Painting, Photography, Illustration, Design, Music, and Fashion.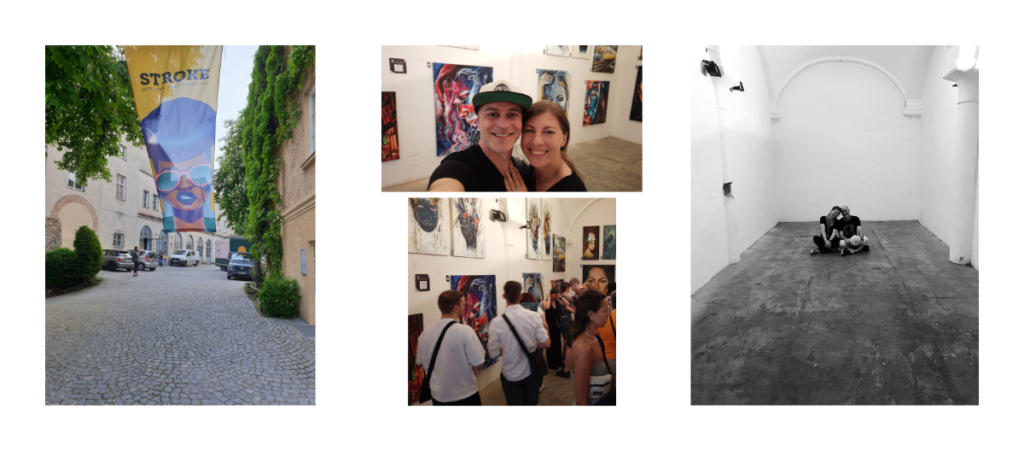 To make it short, it was an amazing experience for us. We are so happy and so proud that we had the opportunity to be part of this amazing event. So many visitors came and visited us at our booth, and we received amazing feedback. Friends and family came to support onsite, and we enjoyed talking to every single one.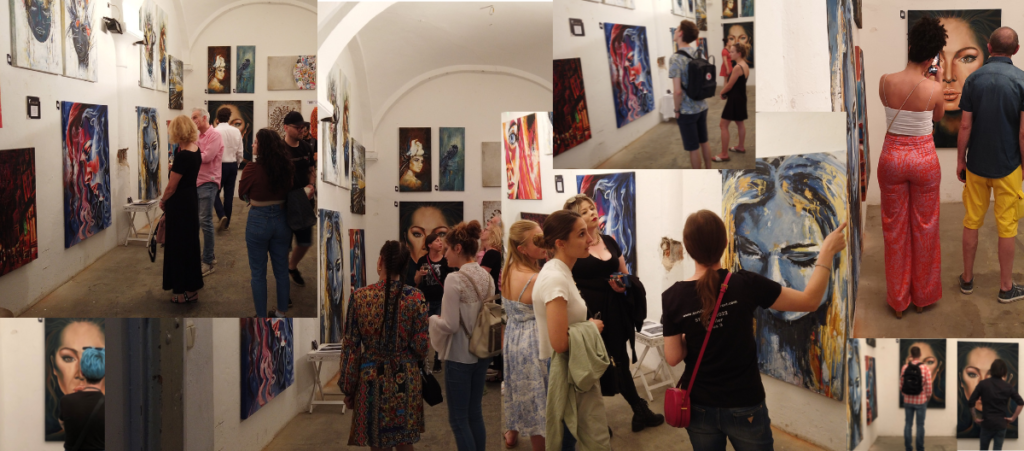 And finally, it was amazing to meet so many talented artists in one place and expand our network.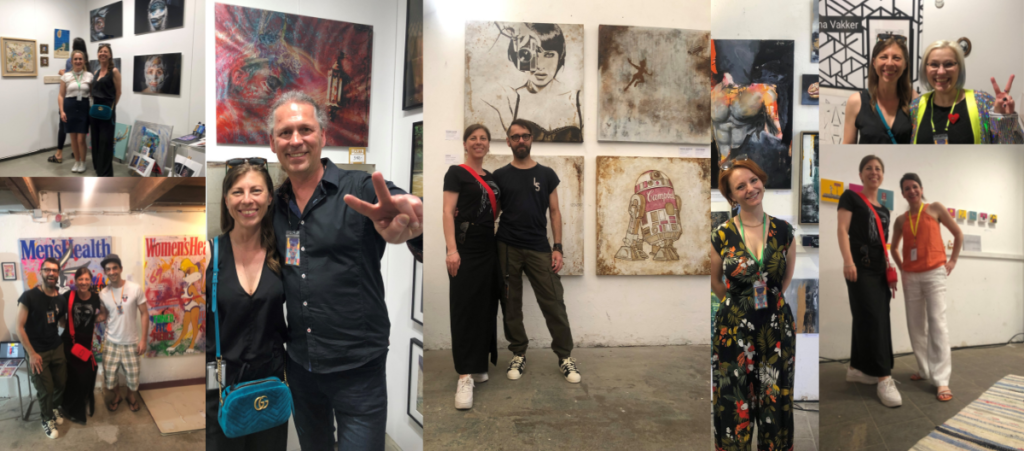 You can read about it in full length on this blog Post:
Review – S.Weller @ Stroke Art Fair – Sundays are for Art
We are already looking forward to participating in 2023 and hope to see a lot of you there.
Sold our first paintings
When we started with Sundays are for Art, we wanted an opportunity to show some of our art to the world. And it is amazing to hear and read the great feedback from all of you.
Some of my paintings also found new homes.
The emotions I feel when selling one of my paintings are always really crazy.
On the one hand I feel so proud, and happy, and on the other hand it is hard to let go.
I always put my heart and soul in every painting I create and of course you start to feel attached to every single piece.
There are so many feelings associated with every painting, often very personal feelings and memories are attached with it.
But when I see that someone enjoys my paintings so much, when it brings joy in their life and they want to give my painting a new place in their home, it also fills my heart with joy and pride.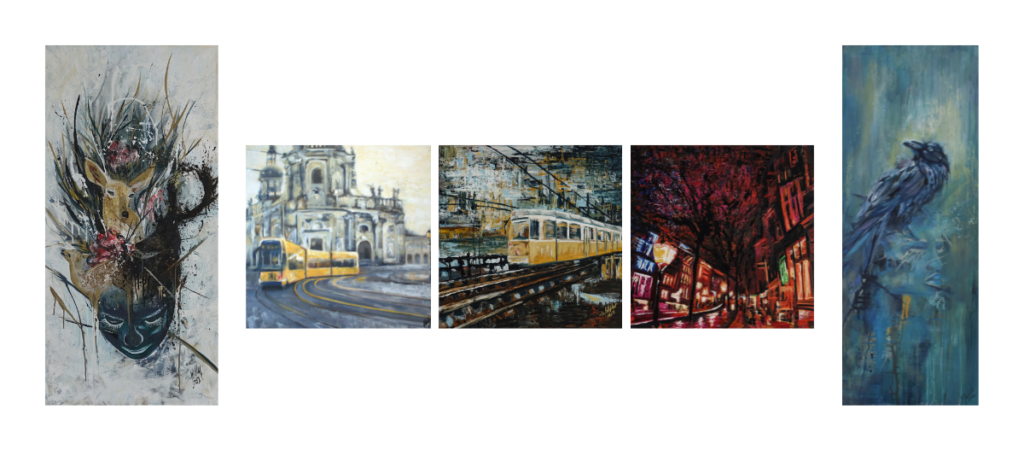 Neue Art Dresden
From the 30th of September until the 02nd of October we participated at the Neue ArT Dresden.
This was only our second exhibition, and it was great to participate.
The atmosphere was quite different from our first exhibition. This felt more like a traditional fair rather than an art festival that we experienced at Stroke earlier in the year.
One thing that was the same on both of our exhibitions this year was the amazing visitors. We wanted to say thank you to all visitors that came and visited us at our booth and all the amazing feedback they had for us.
This is what it is all about.
Another great experience was to meet so many lovely and talented artists in one place and talk to all of you.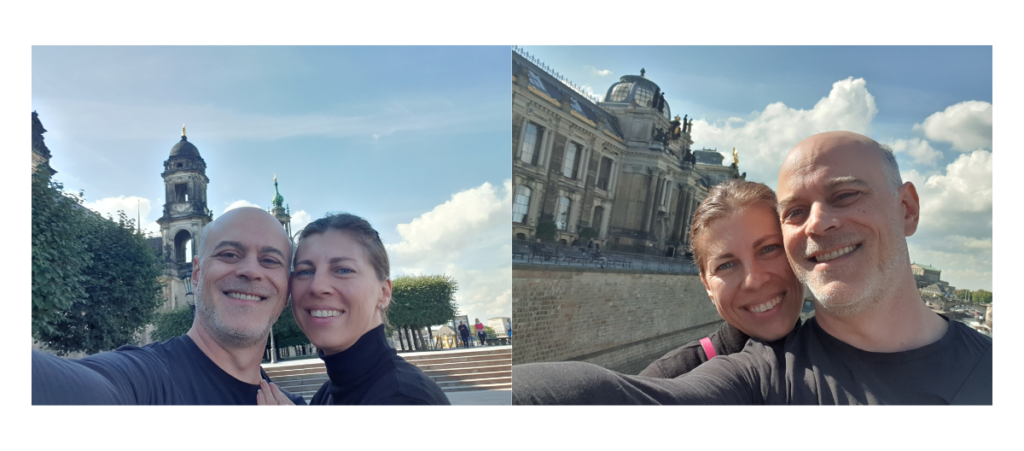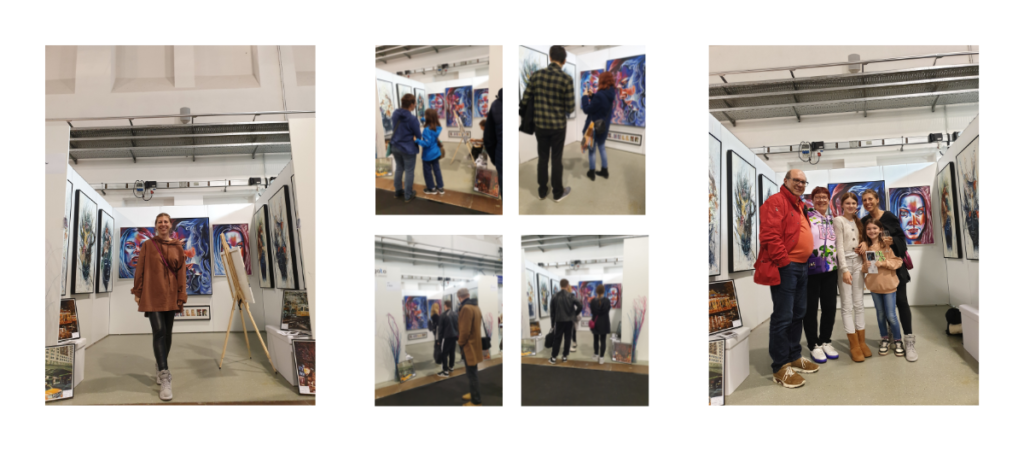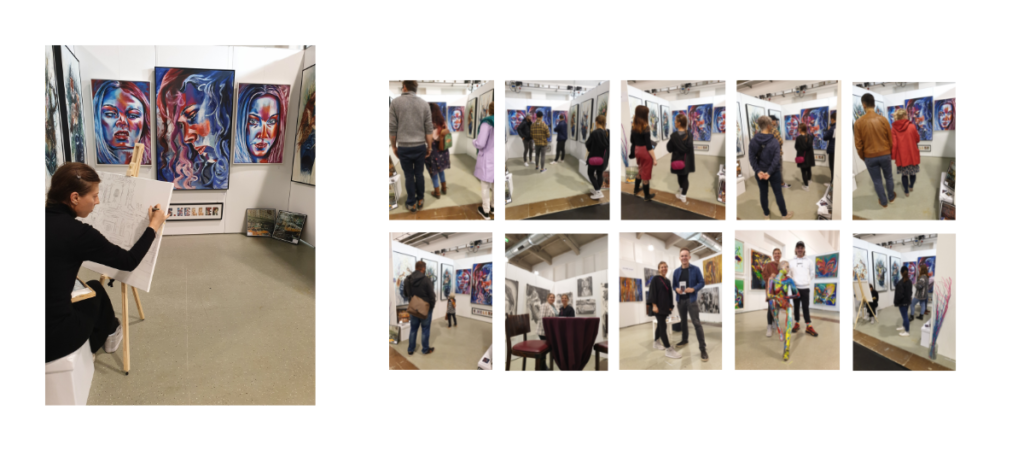 You can read about it in full length on this blog Post:
Review – S.Weller @ Neue ArT Dresden
Commission Work
We also had some super interesting commission work this year. This first one was really special in so many aspects.
This painting was created for an electronics manufacturing company that was looking for a creative present to celebrate 30 years of cooperation with one of their business partners.
The idea was to create the heads of the portrait using their SMT placement machines and place a total of over eighty-thousand components on paper to create a picture of the three faces leading the company.
I painted the bodies and applied everything on one surface.
I felt it might also be a great idea to add some more details to the painting, ensuring that viewers can still find new things when they look at this painting for a longer time.
You can read about all the details in our Blog Post here:
Commission Work – Sundays are for Art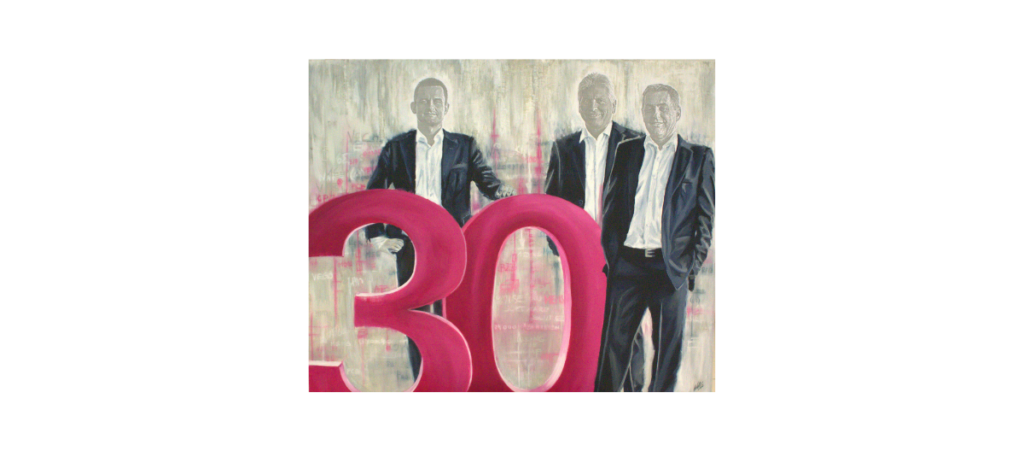 I also had some more commission work as part of a project where old book pages and music sheets got a second life on a canvas. This was so much fun, as I could decide what I wanted to do and experiment with a lot of different techniques. These were created with a specific audience in mind, and the idea was to create striking paintings with only few lines and vibrant colors.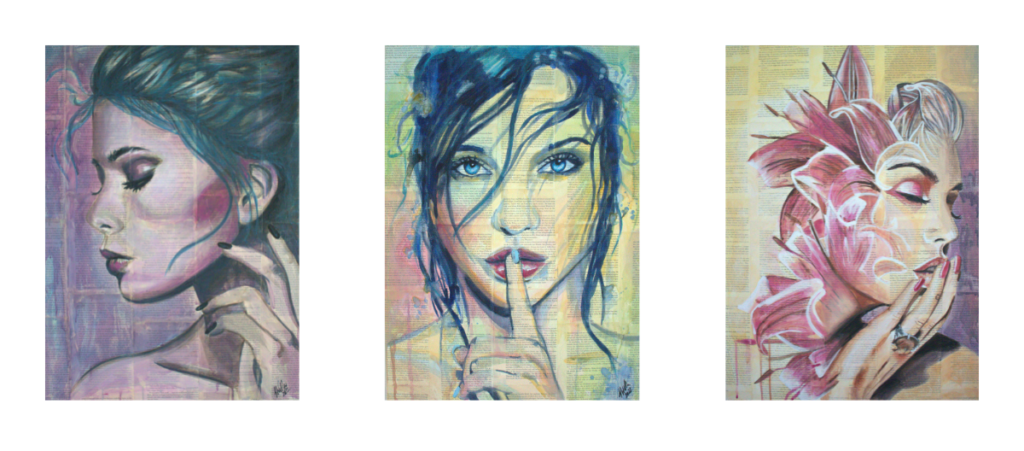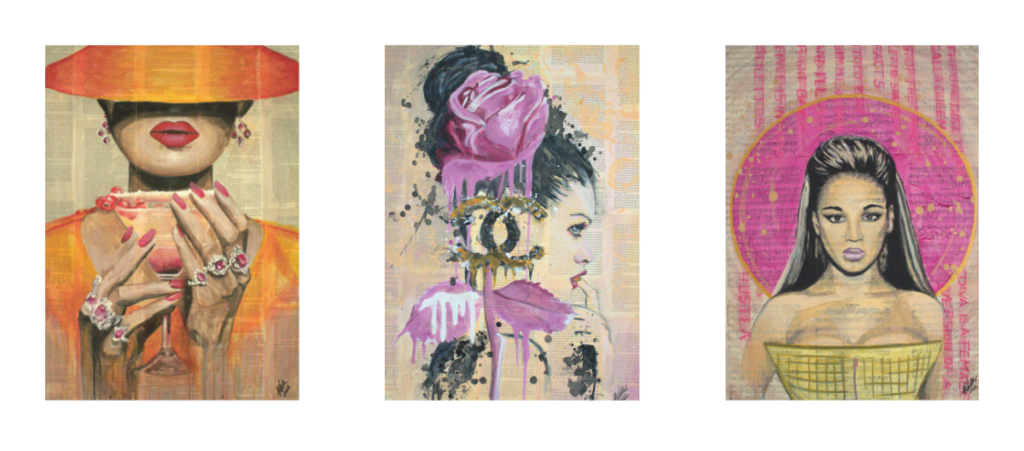 Showcase Parkhotel Egerner Höfe
Our latest highlight was the opportunity to showcase some of our art at the Luxury Hotel Egerner Höfe located in the beautiful Rottach-Egern.
The Hotel is lovingly designed with natural materials from the region and provides an exclusive ambience. The Michelin-star restaurant offers traditional and, if possible, regional food.
If you are interested and want to know more about the hotel, check out their website:
https://www.egerner-hoefe.de/en/
This felt like the perfect match to showcase some pieces of our Lost in the woods series.
And I also decided to create two new portraits of Romy Schneider, most known for playing the role of empress Elisabeth (Sissi) combined with floral patterns from the region.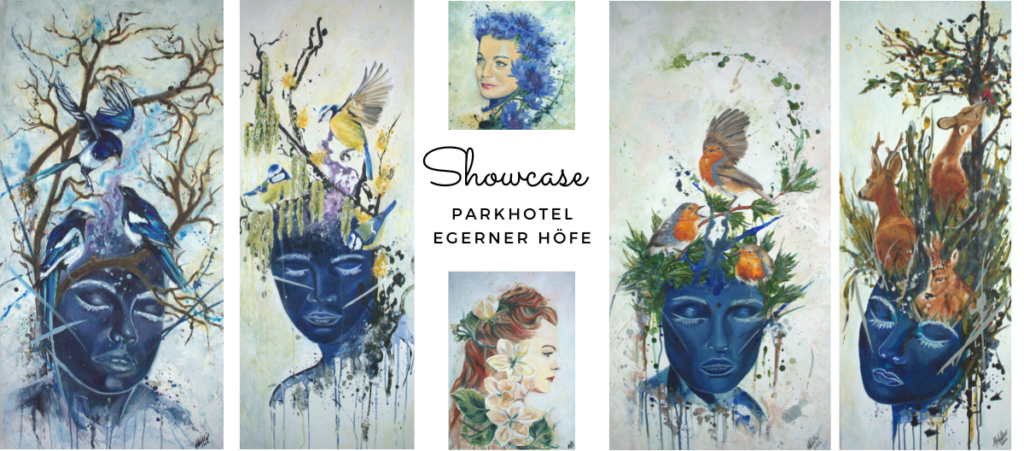 You can read the entire story in this Blog Post:
Showcase at Parkhotel Egerner Hoefe
2023 Coming Up
2022 was a wild and amazing start to our journey with Sundays are for Art.
We have learned so many things and made so many amazing connections that we are looking forward to continuing our journey in 2023.
We already have some plans and ideas for the coming year.
We will be re-designing this website a bit, and we definiately want to write a bit more about our influences and connections between music and painting to just name a few.
What would you like to see or hear about from us? Feel free to drop us a comment or send us a mail.
We are looking forward to an amazing 2023 with all of you.
Stephanie & Stephan